Tips to Organize Multiple Home Exchanges
As fans of homeexchange.com with 40+ experiences, we're often asked for our tips and we're happy to share
If you have experienced the pleasure of a successful home exchange, you're excited to do more. If you've never considered home exchange you may enjoy this story about exchanging your home with strangers. Now, what about scheduling several home exchanges in a row for one unforgettable trip? This may seem daunting to organize, but with these tips you're only limited by your imagination!
Start planning far in advance
The more exchanges involved, the more time you need to organize. It helps to have a range of potential dates in mind to tell potential exchangers – can they fit your stay into that range? Does their visit to your home need to be simultaneous or can it be non-simultaneous? Or is it hospitality? Do their preferred dates work with your schedule? Non-simultaneous exchanges can make scheduling easier. This works best if you have a second home or a place to go when they visit your home.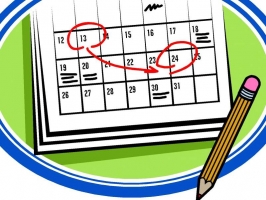 When you are fitting the exchanges into the calendar puzzle, schedule those with restricted dates first, then the flexible folks. Sometimes there are gaps ideal for a road trip or short hotel/B&B stay.
Map it out
What locations are most important to you? Be flexible and don't be afraid to accept an offer from a place that you hadn't considered. The unknown is part of the adventure.
Utilize the excellent tools available on homeexchange.com
List your Preferred Destinations in your profile so folks will find you, do reverse searches of profiles looking for your location or specific dates, and consider using passport balloons. When you are searching a specific location, use the filters option – specifying personal preferences that are important to you will ensure a happy exchange. Is a car available? Is non-smoking required? How many travelers? Also, in your home listing you can list the dates your home is available. So, if you know you'll be away for specific dates and your home will be empty, why not offer those dates up for a non-simultaneous exchange?
Communication is key
Make sure all parties understand your scheduling goals and that you will honor theirs. There are precious vacation plans, flights, and finances involved so it's important for all to be certain of their commitment. The awesomeness of homeexchange.com is largely based on the relationships and trust between exchangers. As plans progress from a range of potential dates to confirmed dates, stay in touch with everyone involved. Same for scheduling their visits to your home. Arrange for a skype call with each exchanger to establish comfort levels.
Document the details
You might think you can keep track of all the facts and figures in your head or by referencing emails, but keeping a spreadsheet or summary page is a huge help. Create a document with all your potential and confirmed exchanges. For each one, include their listing number, location, names, dates, address, phone numbers, skype ids, plus notes for pet care, special requests, restrictions and their dates to visit your home. Is it full exchange or hospitality? How to access the house keys? Is a car included?
You may want a spreadsheet for transportation details
How are you getting from the airport (train station, etc.) to each home? If a car is included, will it be at the home or the airport? We often leave our car at a managed parking lot so our exchangers can get it at the airport if we aren't in town to pick them up. How are you getting between exchanges (rental car, train, plane, bus)? Include flight numbers and times. Keep track of it all in one place or you may find yourself scrambling for information.
At your own home
– Allow time between exchangers for a dependable cleaning service.
– Rely on a trusted neighbor / friend to keep an eye on your home, greet exchangers, and respond to unexpected issues. Reward them with goodies from your trip, if possible. For our next 5 month / 12 home exchange adventure we gave our neighbors a case of international wine, plus a reserve of cash for any emergency repairs. Be sure to share your detailed itinerary.
– Have a handyman on call who is familiar with your home.
– Create a Home Exchange manual with details about wi-fi codes, contact numbers, instructions for appliances, and departure instructions. A list of local restaurants, grocery stores and things to do is appreciated.
– Provide a generous supply of bathroom tissue, paper towels, cleaning products, and easy to find bedding and towels.
– If you're exchanging your car, check all maintenance needs and overall cleanliness. Including a GPS or local maps is helpful.
– Clear space for your guests in the kitchen pantry, fridge and bedroom closet or drawers.
You're on your way!
When you get to each exchange, try not to plan anything big for the first day or the last day. Give yourself time to settle in, get groceries, and adjust to new time zones. On the last day, get ready for your next adventure – write a nice thank-you note – give yourself ample time to pack and clean – don't leave anything behind – and make sure everything is as lovely as you found it.
A real life example
Using these planning tips, we have organized a 5 month trip with 12 back to back home exchanges in Australia, New Zealand and Fiji. Here's our "down under" itinerary. Follow our journey here and on our Facebook and Twitter pages. A few of our stories are published on HomeExchange. com's blog: Down Under Odyssey!
To read more of our travel stories that include home exchanges, view these.
?

Do you have questions or other suggestions about organizing a long-term adventure exchanging multiple homes?