Scotland Honeymoon Home Exchange – A gigantic, green hug!
We first heard of home exchange vacations from friends in San Francisco. They had been on over 40 home exchanges and had wonderful experiences. It's a great way to see the country and the world while staying in nice places with all the comforts of home, including full kitchens, laundry facilities, and cars too, if you prefer. We wanted to give it a try. We have a nice home in the southwest suburbs of Denver, but would anybody really want to vacation in the 'burbs?
At the time, we were very busy planning our wedding festivities so there just wasn't time to put together a home exchange profile and look for matches. But we made the time, took a few pictures of our home, wrote a description and signed up at homeexchange.com. We were certain it would take a long time to find the right exchanges and make plans, so we might as well get it posted for future trip possibilities.
Heck, we might get lucky. After all, we hadn't planned the best part of the wedding (the honeymoon!!) yet. We knew we would find something wonderful – ideally we wanted to choose a country which neither of us had visited and we just weren't on fire about our ideas yet. Meanwhile, we planned our Scottish/Irish/Celtic wedding – complete with bagpipes, drums, Highland dancers, kilts, haggis, scotch, an authentic Celtic Chef prepared a full menu of delicious celtic food.
SURPRISE!! Within a week of signing up on the home exchange site, we had the perfect offer
A friendly couple in Scotland wanted to visit Denver to play golf and explore Colorado for three weeks – and the time frame they wanted was just 2 weeks after our wedding – exactly when we hoped to honeymoon. UNBELIEVABLY PERFECT!
We learned about their area, Lockerbie in Dumfries and Galloway, then replied enthusiastically to their request…wondering whether we dared to get our hopes up.  Later, we had a nice phone conversation and figured out the exact dates and travel logistics. Everything was set for an August trip to Scotland!
What's worn under a kilt?
Our wedding in late July went beautifully with only minor glitches (the cake avalanched, but nobody noticed and the hairdresser arrived an hour late limiting picture time – boo). It was Tom's first public appearance in a kilt and he was, of course, asked by many "What is worn under a kilt?"  He has several clever answers; one is: "Nothing is worn under my kilt, it's all in perfectly good working order"…or simply "shoes and socks".
The Scotland Honeymoon Exchange
Our Scottish hosts flew here a couple days before we headed there. Dave is a retired veterinary surgeon and Moira is a retired primary teacher. We managed to get in a round of golf in Denver (David was amused at how far a golf ball flies at altitude) and a Colorado Rockies baseball game (Tom enjoyed trying to explain the peculiar rules of baseball). We were able to get to know them a bit and they are wonderful!  When we arrived at their home it turned out to be even more beautiful than their photos and just perfect for us. Also, it was within walking distance to town (groceries, restaurants and the train station).
So we ended up trading homes, cars and (unexpectedly) friends too. The people of Scotland are so friendly and inviting. We visited their friends, played at the local bridge club (where we came in third twice, even though we are lousy at bridge…must have been newlywed luck), drank whisky with his delightful 80+ year old mother in nearby Dumfries, and even played golf with his golf buddies at 3 local private clubs (Southerness, Powfoot, and Lochmaben) and they were gracious hosts.
In Colorado, David and Moira attended our neighborhood block party. They got to know our neighbors even better when our freezer quit during their visit and they kindly scrambled to find a home for all our melting frozen food. Later, they visited Tom's parents in Grand Junction (about 4 hours west of Denver), played golf with Tom's dad, and drove to Arches National Park in Utah.
A surprising number of our photos were taken by Sheila with her camera out the car window as Tom drove down winding roads (on the left side).
In the immediate area of Locherbie, we enjoyed numerous memorable excursions:
The town of Portpatrick with the coastal ruins of Dunskey Castle
The lighthouse near Drummore
Sliding Arch (art sculpture in The Byre)
Apostle's Stones (a poor man's Stonehenge surrounded by cows)
The town of Kirkcudbright (art museums & galleries, Scottish street fair with pipe band and dancers)
Threave Castle (on an island in the River Dee)
The Grey Mare's Tail Waterfall hike
Caerlaverock Castle (watched a wedding party with kilts)
Sweetheart Abbey
Rockcliffe (coastal hike)
the well maintained and lived-in Drumlanrig Castle and gardens
lots of other small towns and restaurants, and of course, pubs!
Driving in Scotland takes a bit of getting used to.
Of course, there's the driving on the left side of the road and the country roads are often narrow (sometimes just over one car width wide) with an ancient jagged stone wall as a shoulder. The passenger (Sheila) gets a great view of the wall whizzing by just inches from her face. Then there's the shifting with the left hand instead of right. Fortunately, the gas, brake, and clutch pedals are NOT reversed. Tom did all the driving because he's very good at it, plus she likes to be ready with the camera!
The Lakes District of northern England
Only an hour south across the border is this popular vacation spot. We inquired about the least visited area and discovered a road over two mountain passes that was steeper and narrower than any we know in Colorado. Even though the mountains (munros) here are merely 3,000 feet high, they are quite gorgeous. We toured St. Bees on the coast and had dinner at a nearby harbor restaurant.
3 Days in London
We also took a 3 day trip to London via a high speed train right out of the Lockerbie station. We had a lot of fun doing all the normal touristy things including the double decker bus tour, Thames river cruise, the tower of London, St. Paul's Cathedral (where the cleric on duty (a bishop?) graciously blessed our marriage ), Leicester Square, Picadilly Circus, Hyde Park, the National Gallery, and of course, more pubs – with warm beer.
3 Day Road Trip through the Scottish Highlands
An outstanding side trip was a 3 day road trip through the Scottish Highlands and on to the town of Oban across from the Isle of Mull. We traveled along many lochs and mountain glens (including Glencoe) with waterfalls aplenty.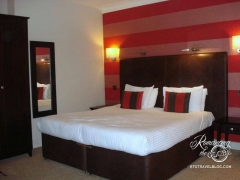 When the managers of our hotel in Oban, The Oban Caledonian Hotel, heard that we were on our honeymoon, they upgraded us to a suite on the top floor with a romantic view of the harbor!  How sweet! We really loved it.
The next day, a guided tour included a ferry to the Isle of Mull, a bus ride past dozens of waterfalls and lush green valleys, another ferry to the island of Iona with its famous Abbey, and yet another ferry to Staffa Island with its bizarre hexagonal shaped columns of basalt similar to Giant's Causeway in Ireland and some we saw in Greece.
The scenery on Staffa Island is amazing!
Fingal's Cave, (1st pic and Tom's on the path to it in the 3rd pic below) was the inspiration for the music by Mendelssohn known as Fingal's Cave and The Hebrides Overture, which he composed to commemorate his visit to the island. Sadly, the rain was just as intense as the scenery and although we were careful to keep the camera covered, it died a few hours later from all the moisture. Still a fabulous day!
Lovely Loch Lomond!
Love this bridge! It's the "Bridge over Atlantic" aka Clachan Bridge.
We visited the Lockerbie memorial which honors those who lost their lives in the terrorist attack on Pan Am in 1988. Come prepared with a dry handkerchief and take the time to read the scores of plaques describing the lives of the victims. It's a thoughtful, touching memorial.
Sheila says: We stepped into the information center, said hello and were reading the stories. Within moments the woman working there said "Oh, you must be the Americans staying at Dave and Moira's home!" Love small towns!
Everyone here is friendly and helpful (and has the most engaging, sexy Scottish accent!!). Even dealing with the minor inconvenience of a flat tire was simple.
This home exchange was a huge success and thus began our enthusiasm for this adventure of exchanging homes with interesting people around the world.   Even though we have since enjoyed more exchanges, this one will always be extra special since it was our first and, oh yeah, there's also the honeymoon thing. A bound picture book of our wonderful experience sits prominently in our family room and makes us smile every time we see it.
Romantic Scotland honeymoon…highly recommended!
Sheila says:  When I think of Scotland and her people I feel like I'm wrapped up snug in a giant hug!
Trip Date: August 2010
?

 Have you been to Scotland? Where do you love? Ever worn a kilt? Where did you honeymoon or where do you dream of honeymooning?